JOA IT 965 Post Code 25 December 2022 Written Test Examination has been cancelled due to paper Leak. By the HPSSC Female Staff. JOA IT Previous Year Question Paper PDF Click Here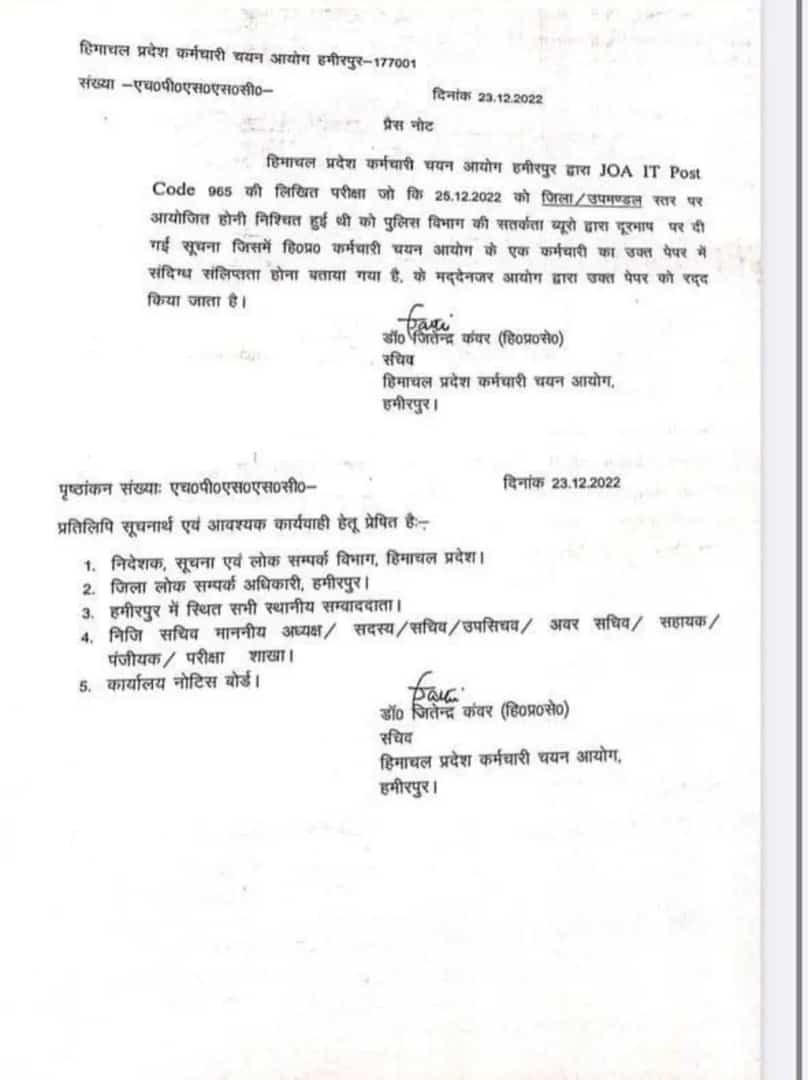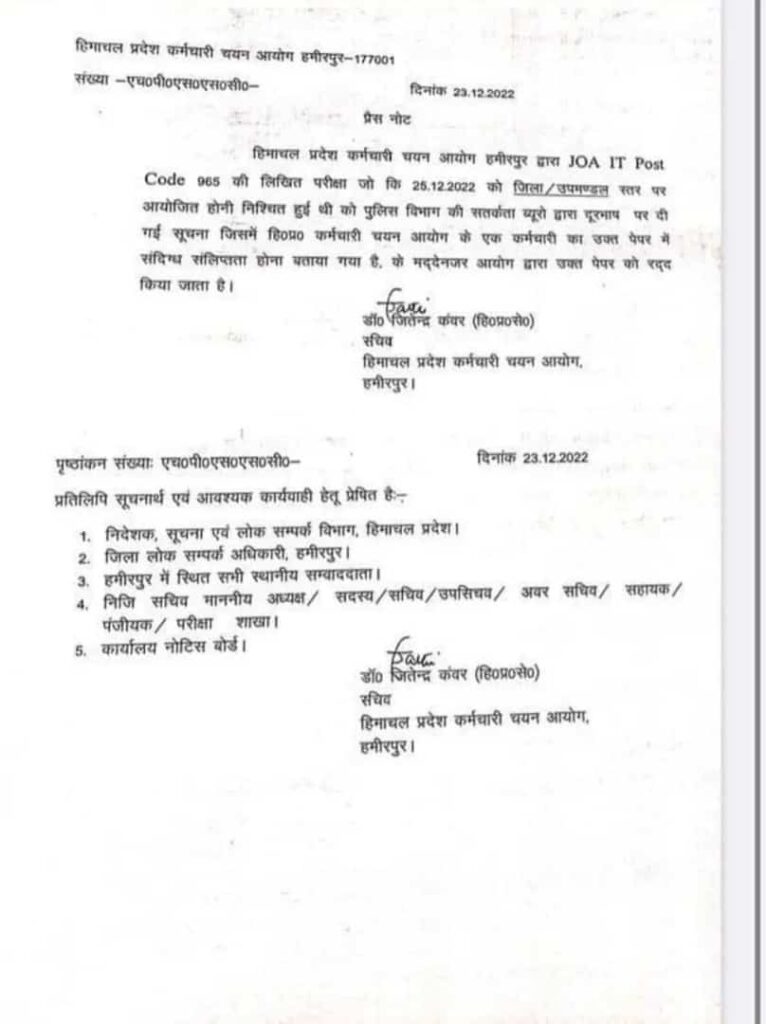 On Friday 23 December 2022 Himachal Pradesh Staff Selection Commission HPSSC Hamirpur issued the one notifications regarding the Junior Office Assistant JOA IT 965 Post Code 25 December 2022 scheduled Written Test Cancelled due to the paper leak matter of JOA IT 965 Post.
According to the media reports or HPSSC Hamirpur notifications the written test question paper is leaked by the HPSSC Hamirpur one female staff. Now police is investing this case. This written test examination is cancelled not postponed for some time. So now new Paper will set by the HPSSC Hamirpur. So it will take some time two or three month Next Date will announced in next year 2023. Expected Exam Date will be after ir in March month 2023.
JOA IT 965 Post Code Exam Date
हिमाचल प्रदेश कर्मचारी चयन आयोग हमीरपुर JOA IT 965 पोस्ट कोड का 25 दिसंबर 2022 रविवार को होने वाला रिटन टेस्ट परीक्षा का पेपर HPSSC Hamirpur द्वारा रद्द कर दिया गया है। पेपर रद्द करने का कारण पेपर लीक बताया गया है। मीडिया रिपोर्ट्स के मुताबिक HPSSC हमीरपुर की महिला कर्मचारी ने ही इस पेपर को लीक किया था। अभी इस मामले की छान बिन पुलिस कर रही है। और अब इसकी लिखित परीक्षा अगले साल में ही होगी इसके लिए नए सिरे से प्रश्न पत्र तयार और बनाया जाएगा।
JOA IT 965 Post Code की लिखित परीक्षा होने की संभावना अब अगले साल 2023 मे मार्च महिने या इसके बाद होने की लग रहीं है। HPSSC Hamirpur जिस तरह से कोई भी पेपर करवाता है।
Download Official Notification please Visit HPSSC Hamirpur Official Website https://hpsssb.hp.gov.in/AllNotificationUpd.aspx?id=4