On Monday 19 December 2022 SJVN Himachal Pradesh Invited online Application for the Apprenticeship training 400 Vacancies. In various trade and Discipline Graduate Apprenticeship and Diploma Apprenticeship or ITI Apprenticeship. These all Apprenticeship Vacancies are advertised in SJVN Official Website www.sjvn.nic.in.
Online Application are invited for these all trade discipline Vacancies. Online Application started from 19 December 2022 to 08 January 2023 Interested Candidates may apply through Online SJVN Portal www.sjvn.nic.in.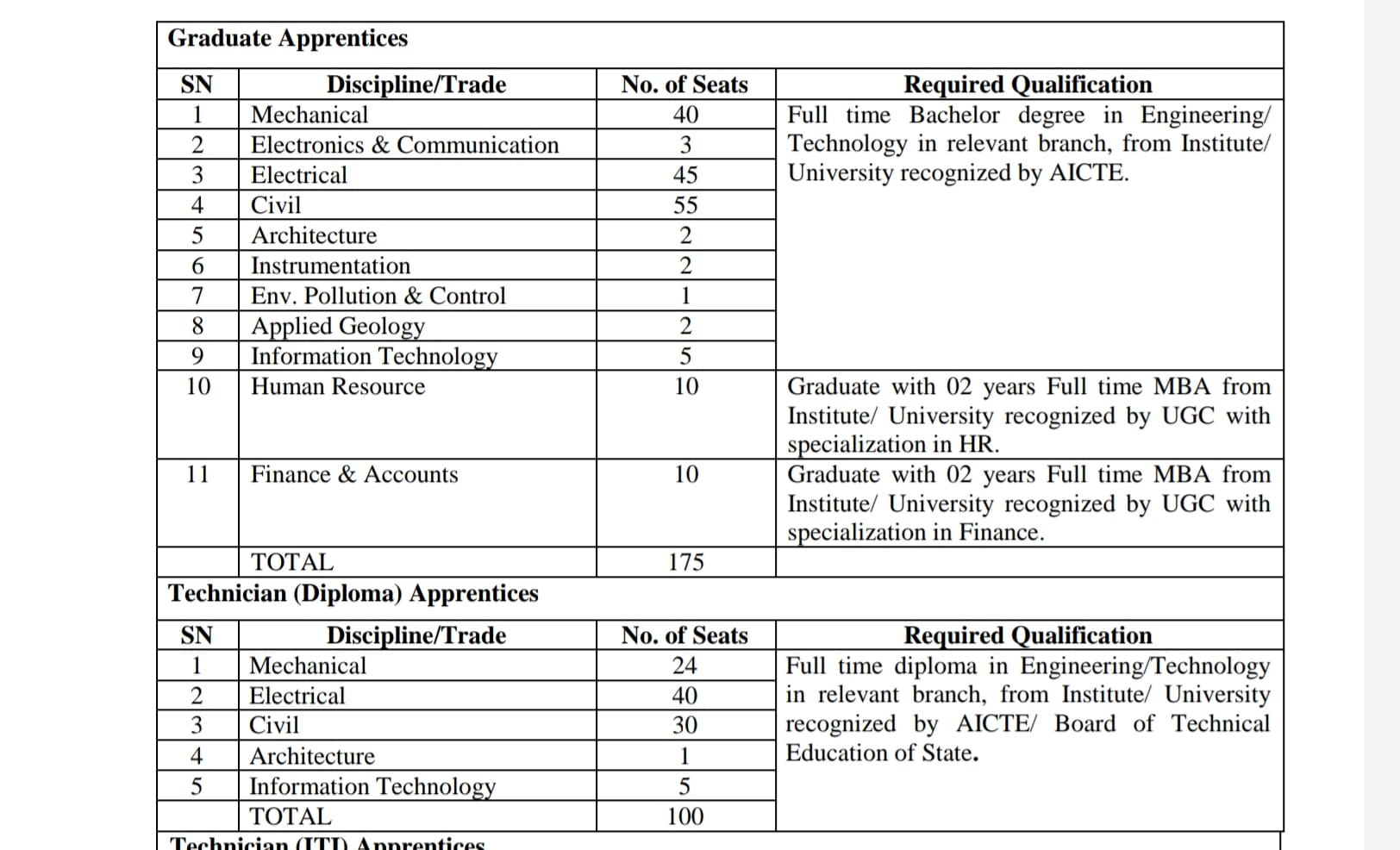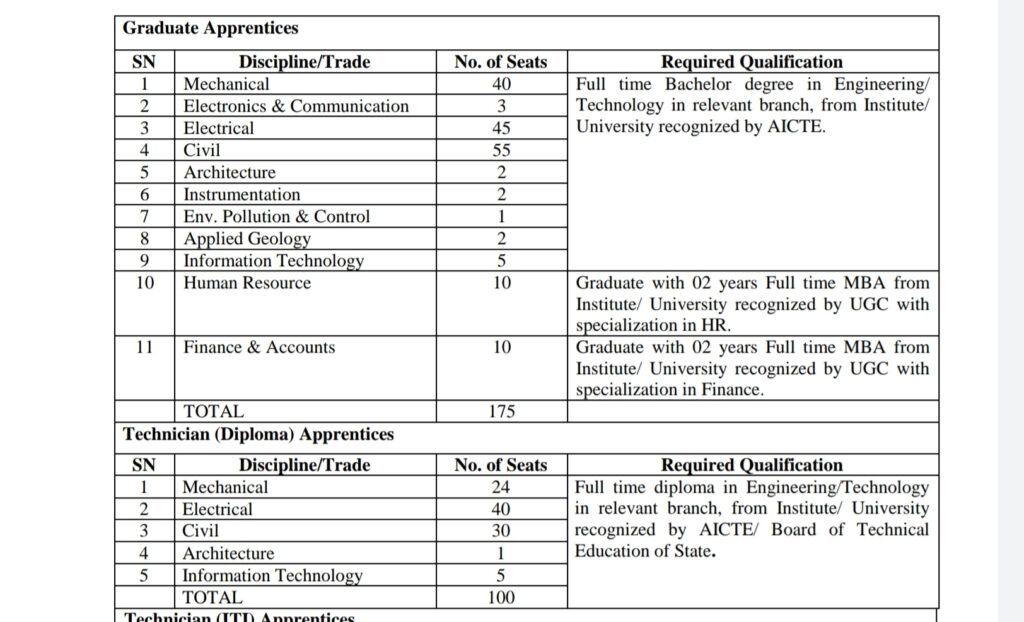 SN
Discipline/Trade
No. of Seats
1
Mechanical
40
2
Electronics & Communication
3
3
Electrical
45
4
Civil
55
5
Architecture
2
6
Instrumentation
2
7
Env. Pollution & Control
1
8
Applied Geology
2
9
Information Technology
5
10
Human Resource
10
11
Finance & Accounts
10
TOTAL
175
SN
Discipline/Trade
No. of Seats
1
Mechanical
24
2
Electrical
40
3
Civil
30
4
Architecture
1
5
Information Technology
5
TOTAL
100
SN
Discipline/Trade
No. of Seats
1
Electrician
100
2
Office Secretary ship/ Stenography/Office Assistant/Office Management
5
3
Fabricator/Fitter/ Welder
10
4
Mechanic (Electronics/General / Mechanical)
5
5
Information Communications Technology/ IT/ ComputerAssembly & Maintenance
5
TOTAL
125
Essential Qualification
Graduate Apprenticeship Full time Bachelor degree in Engineering/ Technology in relevant branch, from Institute/ University recognized by AICTE.
Human Resource Graduate with 02 years Full time MBA fromInstitute/ University recognized by UGC with specialization in HR.
Finance And Account : Graduate with 02 years Full time MBA from Institute/ University recognized by UGC withspecialization in Finance.
Diploma Apprentice Full time diploma in Engineering/Technology in relevant branch, from Institute/ University recognized by AICTE/ Board of Technical Education of State.
ITI Apprentice ITI passed from any recognized University/ Institute.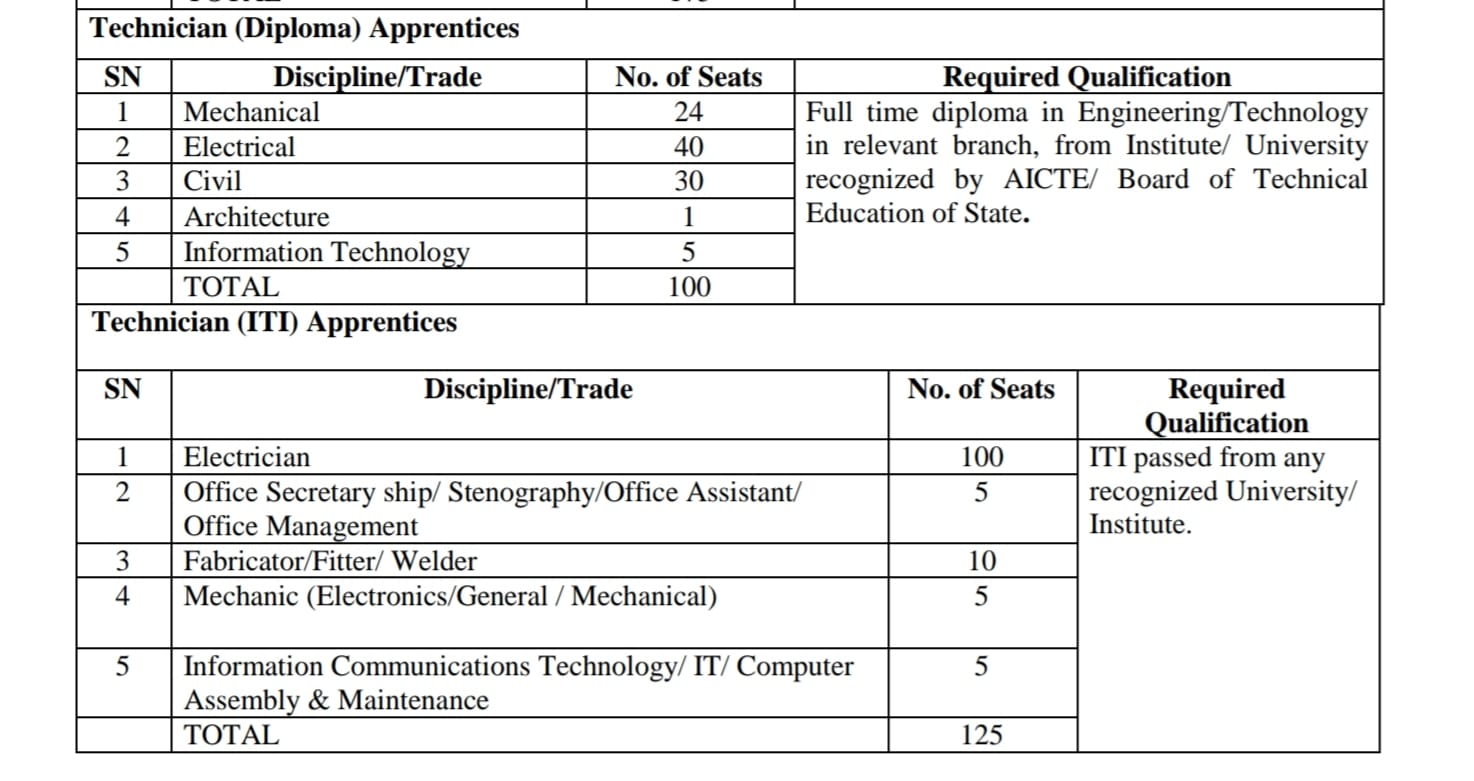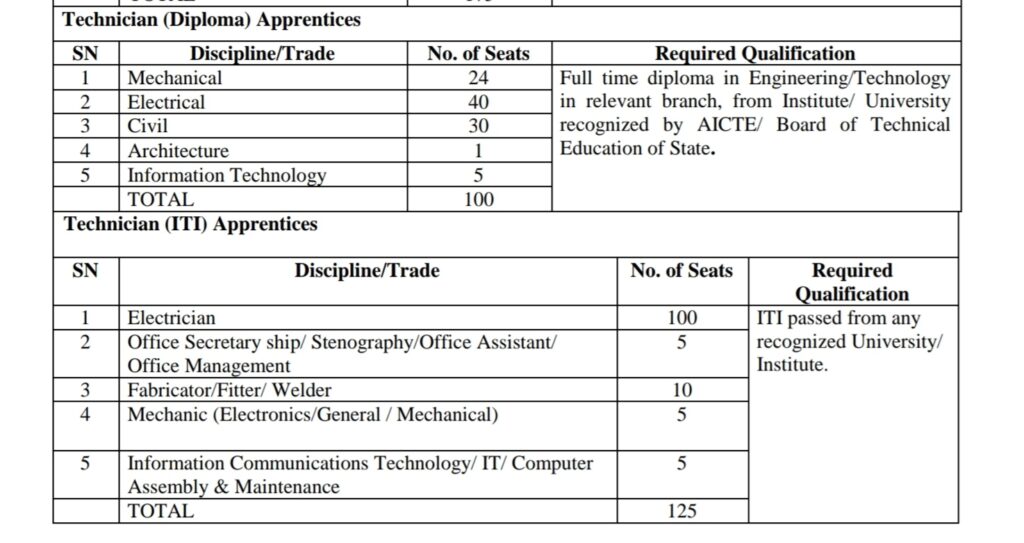 Note: In case if seats in any trade /discipline are not filled/ remain vacant due to non-availability of eligible candidates, the same will be diverted to other trade/discipline.
Age Limit: The minimum age limit is 18 years and the maximum will be 30 Years as on closing date (Relaxable by 05 years for SC/ST; 03 years for OBC (Non-Creamy Layer) & 10 years for PWDs)
Stipend:

Graduate Apprentices: Rs. 10,000/- Per Month
Diploma Apprentices: Rs. 8,000/- Per Month
ITI Apprentices: Rs. 7,000/- Per Month.
Training duration: One Year
Reservation: Reservation of seats for SC/ST/OBC and PWDs will be as per the provisions of the Apprenticeship Act, 1961 and its amendments thereafter.
Preference to PAF/PAA: 25% of total seats are earmarked for candidates from Project Affected Families (PAF) and Project Affected Areas (PAA) of SJVN with first preference to members of Project Affected Families. However, the candidates will have to produce a certificate in this regard issued from the competent authority/Revenue Department/ Panchayat and duly verified by concerned SJVN offices.
Only Candidates who are domicile of Himachal Pradesh are eligible to apply.
Candidates should be eligible with respect to age criteria and educational qualification as on closing date of advertisement. Result awaited candidates need not apply. Candidates who have undergone apprentice training in SJVN need not apply.
Employment in SJVN No extension of training and employment will be given after the completion of one year training by SJVN.
Candidates will have to make their own stay arrangements.
The candidates who after the completion of their education have undergone training or job experience of one year or more shall not be considered eligible for apprenticeship training. Even if the gap between the declaration of result and the commencement of training is more than three years, the candidate will be declared not eligible.
Selection Criteria: There will be no interviews. The eligible candidates will be shortlisted on the basis of merit list formed on the basis of marks secured in Matriculation examination (10th), 12th and ITI Course/ Diploma and Bachelor of Engineering/Technology or MBA as per following details:
Apprentices
Weight age
Total marks
Graduate Apprentice
20% to 10th
20% to 12th /Diploma (whichever ishigher, in case of both)
60% to aggregate inEngineering/MBA
100
Diploma Technician
30% to 10th
70% to Diploma in Engineering
100
ITI Technician
30% to 10th
70% to ITI
100
The shortlisted candidates will be informed through post along with uploading of list on SJVN website.
The candidates shortlisted on the basis of the information provided in the Application Form shall have to produce all original testimonials/certificates at the time of verification. In case any information/claim made by the applicant in his/her application is found to be false, the candidature of such applicant shall be cancelled and he/she shall be liable for prosecution. Also the candidate will have to produce a certificate of medical fitness before joining.
The selection and deployment of Apprentice Trainees will be subject to detailed provisions of Apprenticeship Act. The contracts with candidates thus selected will be registered under Board of Apprenticeship Training (BOAT)/ National Apprenticeship Promotion Scheme (NAPS) Portal. Therefore candidates who have already been registered and got training under these schemes will not be entertained and need not apply.
| | |
| --- | --- |
| Download Official Notification 2023/24 | Click Here |
| Download Official Notification 2022/23 | Click Here |
| Apply Online | Click Here |
| Visit Official website | Click Here |