Hello Friends in this Article we will give you information about the Veterinary Pharmacy college Institute in Himachal Pradesh. And we will provide you also the all Diploma in Veterinary Pharmacist Institute College in Himachal Pradesh Contact number or address with their Official Website.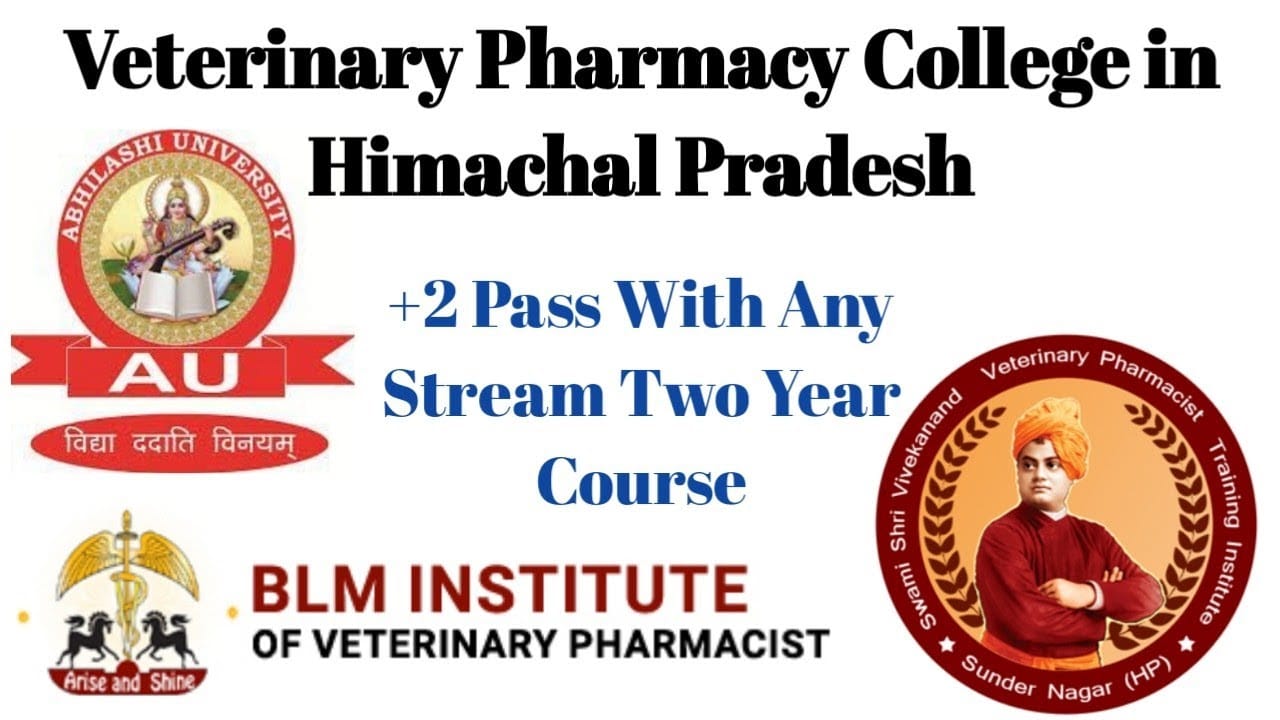 How to Become a Veterinary Pharmacist
In Himachal Pradesh for Veterinary Pharmacy two year course applicant or student need +2 with more then 55% in any stream like Arts, commerce, Science student is eligible for this course. And Student age should be more then 18 year. This is the admission criteria for the two year Course. In any one of the below college or University. Currently in Himachal Pradesh their is no Entrance Test is conducted by the Govt for this course you should take directly contacting or visiting the College or University office regarding the admission.
Some college or University can do Counselling for the admission it depends on the Number of application for the this course for example if some college or University have 60 seats only and but 100 students register in college for this course admission so college University do counselling for admission in the +2 Class Percentage Based Counselling. Higher Percentage student or Donation student can get admission only.
Diploma in Veterinary Pharmacy (Pharmacist) College Institution in Himachal Pradesh
Now Currently we will provide you a Three Veterinary Pharmacy college Institute information or contact Details.
Abhilashi University Mandi
Address : VPO Chail Chowk Tehsil Chachyot District Mandi Himachal Pradesh 175028 Contact Number 01907292607, 9805613939, 9418006520, 9816242139 official website http://abhilashiuniversity.com
SSV Institute of Veterinary Pharmacist
Address : Sunder Nagar Mandi Himachal Pradesh Contact Number 9816706532, 9817038005 Affilated from HP Govt and CSKHPKV Palampur. official website http://www.ssvinstitute.com
BLM Institute of Veterinary Pharmacist
Address : Kandyohal, Po Ropri, Tehsil Sarkaghat District Mandi Himachal Pradesh 175024 Contact Number 8091802496, 9418726389 official website https://www.blminstitute.com
Shree Dhanwantri Veterinary Pharmacist Institute
Shree Dhanwantri Veterinary Pharmacist Institute Rait Mandi – Pathankot Rd, Rait, Himachal Pradesh 176208 India
Thakur College of veterinary Pharmacist
Address:- N.H.-503, Kangra Road Dhaliara, Teh,Dehra, Distt. Kangra (H.P) website https://thakurgroupofinstitution.org/veterinary-pharmacist/
Gautam College Hamirpur
Bus Stand, Hamirpur H O, Hamirpur-Himachal Pradesh, HIMACHAL PRADESH 177001
Call Us +91-9736391060 +91-9736991060 +91-9418010420 01972-221493
General Enquiries
[email protected]
http://www.ggchmr.com/
VVM Institute of Nursing and Veterinary Pharmacist
VVM Institute of Nursing and Veterinary Pharmacist Malkwal, P.O Khawara Distt Nurpur
Contact- 9418456972
http://www.vvminstituteofnursing.com/
Kullu Institute of Veterinary Pharmacist
Kullu Institute of Veterinary Pharmacist Nagwain Himachal Pradesh, India 9816186026, 8544731599, 7018870722 website https://kulluinstituteofveterinarypharmacist.com/
Nalanda College of Education
Correspondence Address, Nalanda College of Education, VPO Jhaniari (salasi), Distt. Hamirpur, H.P. Email : [email protected] Phone No. +91-1972-226164
SHIVA Group of Institutions
SHIVA Group of Institutions Chandpur, Bilaspur, Himachal Pradesh, India Phones : 9816079160, 9418077444 PRO Contact No : +91 94180 00903 E-mail : [email protected] Website : www.siethp.in